Riley Wranglers lessons will start September 14, 2022. Lessons will be every Wednesday from 7-9 p.m. at the Cumberland United Methodist Church, 219 N. Muessing St., Indianapolis (Indy East), 46229. Square dancing is a great social activity. Come and check it out. The first lesson is free. For more information, e-mail us at rileywrangers@juno.com or call (765) 215-7545

Square dancing is a dance where four couples are arranged in a square, with one couple on each side, facing the middle of the square.
In no time, you will be able to dance like this Click here
In between square dance 'tips' we do round dancing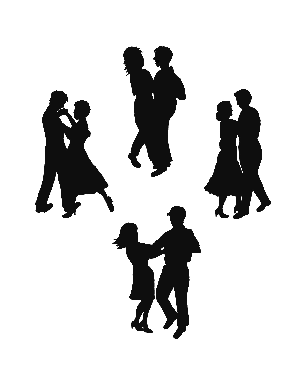 Round dancing is choreographed ballroom dancing. Instead of a caller, you have a cuer that "cues" (or tells) the dancers what the next dance step is. Unlike square dancing where the dance steps are "called" on the fly, each round dance has been pre-written (choreographed) to the music. Different types of musical rhythms are played including waltzes, two steps, foxtrots, cha cha's, etc. Most, but not all square dancers also do rounds. Most square dance clubs include rounds, so that the dancers have a different type of dancing for the evening. The rounds are usually done between square dance tips. Round dancing is a more elegant type of dancing, and is also much fun.